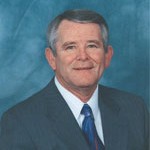 Dr. Bill Weaver recently retired as Senior Minister of Shady Grove Baptist Church in North Richland Hills, Texas where he had served for over 20 years. The thoughts and stories in his book and on this site were created for the people of Shady Grove and a small Bible study group he taught for over thirty years. Although his background includes many honors and accomplishments, at speaking engagements he prefers only one descriptive comment when introduced: "A man who speaks for God."
Bill is the author of I Wish I'd Said That! (See how to order at lloveletters.com), and Designer Marriage, a multi-day seminar which is built on his constant theme that llove* is the key to success in every marriage. He has written numerous articles published in a variety of vehicles over the years. He has written dozens of song lyrics and his short stories, devotional thoughts, prose and poetry, and Special Day (Mother's Day, Father's Day, etc) offerings are always in demand.
Bill has been married for over fifty years to his exqusite bride and best friend, and has four sons, five grandsons, and one exquisitely beautiful granddaughter. He considers the Church of Jesus Christ a part of his extended family.
*Llove – a beautiful story, and we hope you hear it!